Wiltshire Police has branded groups of youths illegally gathering in Lacock and leaving litter strewn across the beauty spot as "disgraceful and disrespectful".
Local residents have been forced to clean up the fields surrounding the River Avon in a bid to keep the area free of alcohol bottles and other rubbish – both unsightly and a fire risk.
Glass bottles hit by the sun at the right angle can focus the rays sufficiently enough to cause smouldering followed by a full-scale blaze. This, coupled with a wildfire warning in place, could see a catastrophic result with the potential to destroy the well-visited tourist site.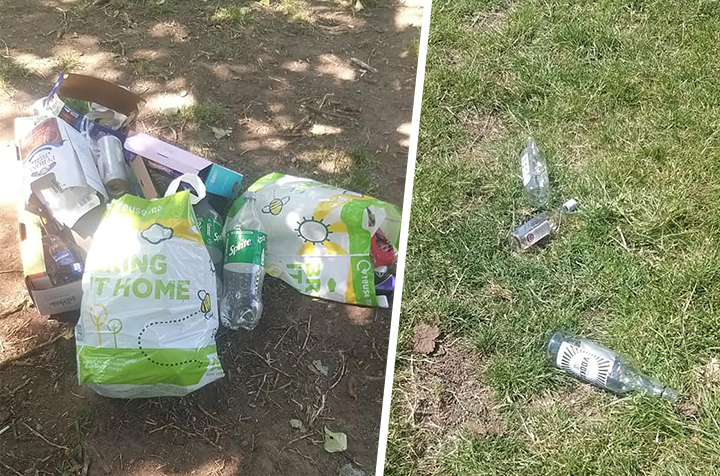 Police officers have been visiting the area regularly following a stream of calls to their control room regarding the large groups of young people spending time together alongside – and in – the river.
Many of the groups have been witnessed ignoring social distancing rules and more but more importantly, breaching the law relating to public gatherings.
A police spokesperson said: "Officers are in attendance in Lacock again this morning following multiple reports of large groups of young people gathering in the village, in particular by the river, breaching social distancing rules.
"Over recent days, as the weather has remained hot and sunny, we've had several calls in to our control room as well as online reports in relation to this issue.
"We have also been made aware by local residents that these groups of people are leaving large amounts of litter in the field by the river.
"Lacock is one of the most beautiful spots in the country – we are lucky to have it in our county to enjoy. Please, enjoy the area safely and responsibly and do not leave your litter behind. There are cows, sheep and lambs living in these fields and your mindless actions are causing harm to these animals and our surroundings.
"Amongst the items left strewn across the field yesterday were glass bottles, plastic bottles, cigarettes, disposable barbecues and much more.
"This is disgraceful and disrespectful. People should feel proud to live in or near such a popular spot which is visited by thousands of tourists every year – please, have respect for your surroundings.
"Officers will continue to visit the area regularly and conduct patrols. If you have concerns, please call us on 101 or visit our website to submit your concerns."
Don't miss out on breaking local 999 news - follow us on Facebook now: