A Swindon school head has this week issued a letter to parents warning them not to allow a now former member of staff access to them homes.
The ominous – and vague – letter about school caretaker Colin Jones sent out by Oakhurst Community Primary School on 9 April, causing parents immense worry.
Lizzie Christopher wrote: "Please be aware that Mr Colin Jones is no longer employed as school caretaker at Oakhurst Community Primary School.
"At the present time, we are unable to share any further information regarding this.
"We are aware that Mr Jones carried out personal work in the community, liaising with some parents directly. In any circumstances we do not recommend him for work and strongly advise you not to employ him in your home."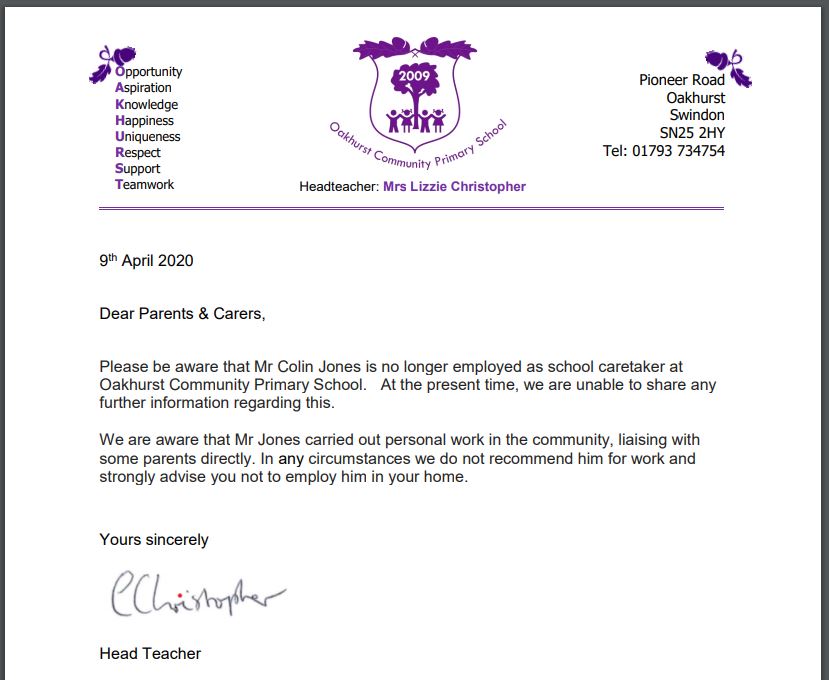 Don't forget to follow us on Facebook and Twitter so you don't miss the latest 999 news. If you spot an ongoing incident please text our 24-hour tip-off line: 07794 802 940.
Read more news and interesting stories

👇