Two mass gathering events have been arranged to take place in Swindon this weekend.
An event poster, originally created for an illegal public gathering at Hyde Park in London, has been edited to include Coate Water Country Park and Lawn Woods and shared on social media.
The two advertised mass gatherings are due to take place at 12pm on Saturday 16 May, encouraging people to "bring a picnic, some music and let's have some fun and say yes to life!"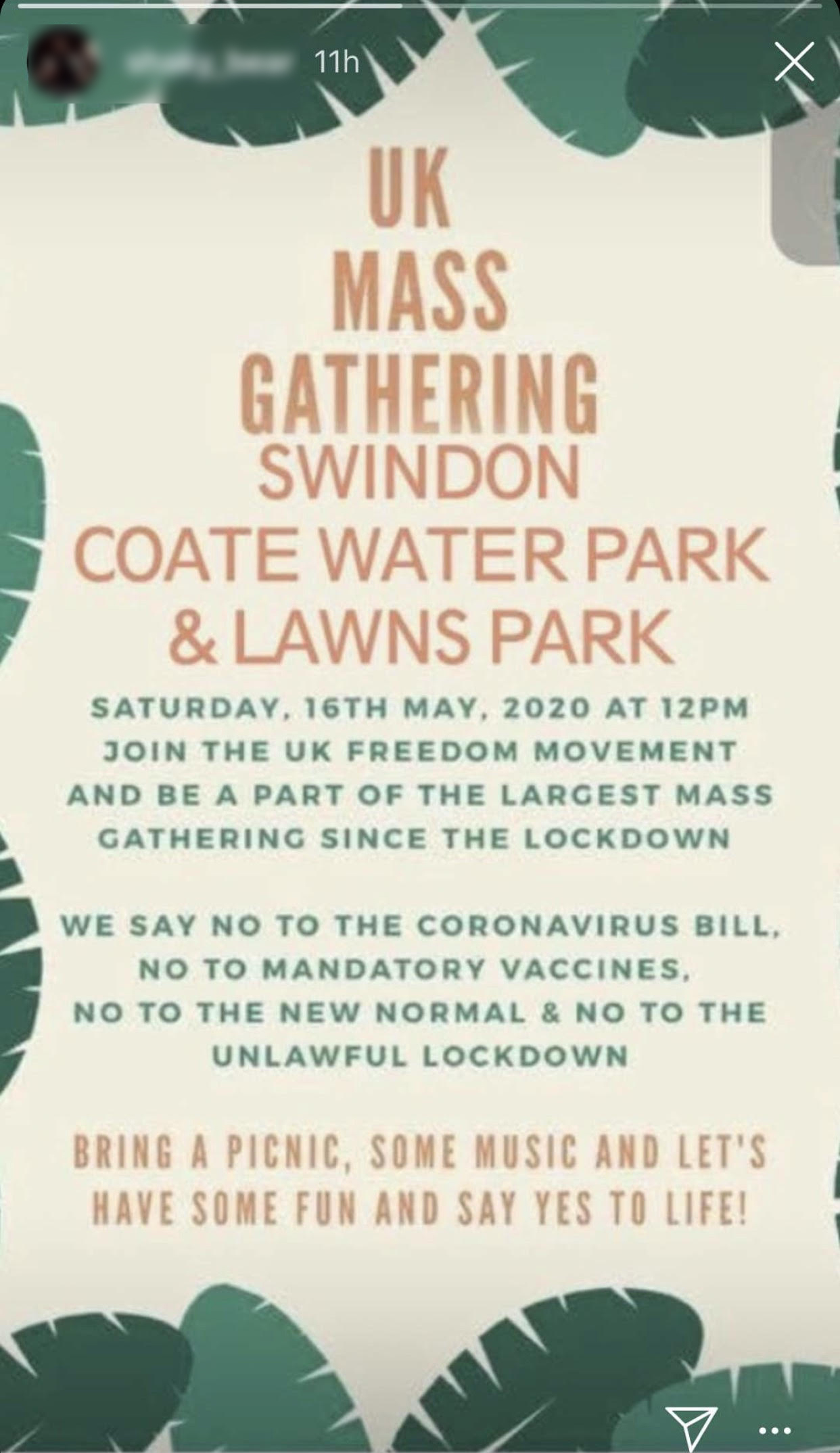 It encourages people to "say no to the coronavirus bill" and "no to the unlawful lockdown", as some people fear for their freedom during the coronavirus pandemic.
In Hampshire, police are preparing for a mass gathering in Southampton on Saturday – as printed leaflets are distributed to residents across the south of the county.
A spokesperson for Wiltshire Police said: "We recognise that, from today, the Government guidance is changing and people will have slightly more freedom to enjoy outdoor space but we must all do this sensibly and continue to follow the social distancing rules.
"Calling for a mass gathering is a flagrant breach of the regulations and the guidance on social distancing and is wholly irresponsible.
"The number of people who have sadly lost their lives to Coronavirus should be sobering for us all.
"There will be people who want to enjoy some of our outdoor spaces this weekend and, under the new guidance, they are able to do this with people they live with or one other person from a different household and should adhere to social distancing. A mass gathering event could potentially cause risk and harm to other people who are using these spaces as laid out in the guidance.
"Ultimately, if these events do happen, they will cause an unnecessary strain on all emergency services and the NHS.
"We continue to review and consider all the intelligence we receive and this will help inform our patrol plans for the coming days.
"The Prime Minister has been clear that these changes will be kept under close review, and are dependent on the number of cases continuing to decline, so irresponsible or unsafe behaviour now could lead to further restrictions being put back into place.
"There are more freedoms being afforded to us today thanks to the collective hard work of the nation – let us enjoy those sensibly and responsibly."
Don't miss out on breaking local 999 news - follow us on Facebook now: