A fire investigation officer believes smoking materials were being used moments before a house in Devizes was destroyed by flames.
Dorset and Wiltshire Fire and Rescue Service (DWFRS) received more than a dozen 999 calls reporting a major blaze in Hambleton Avenue at 6.15pm on Monday.
Fire crews from Devizes, Melksham, Calne and Swindon were all sent to the scene. On arrival, firefighters found a significant fire affecting the roof and upper floor of the house.
Four breathing apparatus wearers, two hose reels and one main line were used to extinguish the fire, and the aerial ladder platform was used to strip tiles from the roof of the property to check for fire spread.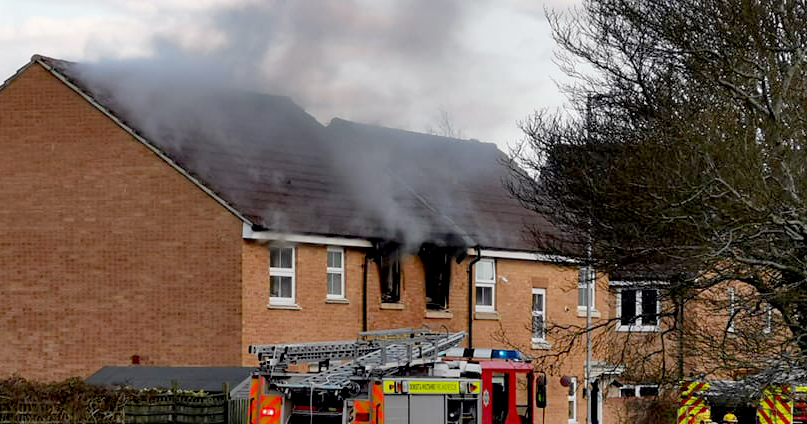 Station Manager Dave Geddes, fire investigation officer at this incident, said: "The family inside the property had a really lucky escape. Unfortunately, smoke alarms inside the house did not activate, but they were all able to escape. Incidents of this nature remind us of the importance of working and well-maintained smoke alarms that are tested regularly. A smoke alarm will provide an early warning to a fire, giving you vital time to put an escape plan into action."
He added: "The investigation into the cause of this fire is still underway, but we believe smoking materials were being used in the property at the time of the fire. I would like to take this opportunity to remind residents that smoking can be extremely dangerous.
"The best way of protecting yourself and others in your home from this risk is to give up smoking altogether; failing that, only ever smoke outside. If you have to smoke indoors, remember to 'put it out – right out'."
Following on from this incident, the fire service is visiting other homes in the area to distribute home fire safety information. Advice about staying safe from the causes of fire in your home, installing smoke alarms and contacting DWFRS about a Safe & Well visit can also be found at www.dwfire.org.uk.
Don't forget to follow us on Facebook and Twitter so you don't miss the latest 999 news. If you spot an ongoing incident please text our 24-hour tip-off line: 07794 802 940.
Read more news and interesting stories

👇